The Upper Cervical Chiropractic Technique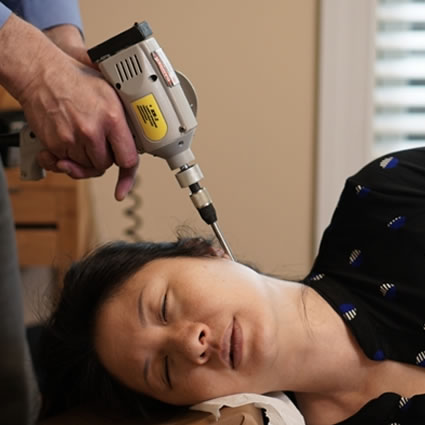 Dr. Ritchie practices the Atlas Orthogonal upper cervical chiropractic technique. This service is for people with upper cervical issues, or, issues with the bones at the very top of the neck. This area is particularly sensitive as it rests where the brain stem is, so problems in this area can often cause neurological issues like headaches, migraines, dizziness or vertigo, jaw pain, ringing ears, and even facial pain, numbness, or paralysis.
If you are coming in for an upper cervical session, you don't need to prepare in any different way than you would for a normal chiropractic adjustment. You also don't need to worry about self diagnosing or determining on your own if you could benefit from upper cervical techniques before you come in.
At every chiropractic visit, Dr. Ritchie is assessing each patient for upper cervical chiropractic problems that need to be addressed.If he does suspect that you may have an upper cervical misalignment, we proceed with a very specific set of in-house X-rays that can help us determine the extent of your subluxation and your general upper cervical alignment. We perform a highly detailed analysis of these X-rays prior to the actual adjustment. The upper cervical technique used during treatment is known as atlas orthogonal
We perform upper cervical adjustments with a handheld device, similar to the Activator technique. This device allows us to perform a gentle adjustment that requires no popping or cracking. This type of adjustment requires an advanced level of specificity and detail, which we take into account at every step of the process.
When we correct upper cervical misalignments or subluxations, our patients often notice incredible changes in their physiology, many of which they did not think were related to their initial concerns. Upper cervical chiropractic care can improve neck pain, headaches, and migraines, and we have seen the neurological issues mentioned above get completely resolved in many of the patients we have treated with this service. Our patients have benefited from improved posture, improved neck movement, and countless other improvements. Because this type of adjustment can improve the function of the brain, which controls every aspect of your entire body, the benefits can be limitless.
We will walk you through every step of your session before any adjustments begin. Explain the purpose of the atlas orthogonal chiropractic technique we use. We will also show you the upper cervical tool that we use and let you try it out on your hand, so you can get used to the very gentle thump before we apply it to more sensitive areas.
Find Out More About Upper Cervical Chiropractic Adjustments
Ritchie Chiropractic & Wellness is one of the few Ballantyne chiropractic offices that offer upper cervical care (atlas orthogonal), and we are particularly outfitted to excel in this specialty. Between our extensive experience, constantly ongoing education, and specialized equipment, we are uniquely set up to analyze upper cervical issues and progress appropriately.
Dr. Ritchie has studied with Dr. Sweat, developer of Atlas Orthogonal upper cervical technique, in Atlanta, GA. Dr. Ritchie is currently pursuing his advanced Atlas Orthogonal upper cervical certification (CCAO – previously BCAO).
Set up your consultation with Dr. Ritchie to get all of your questions answered and concerns addressed. Contact us at (704) 919-0057 to set up your appointment today!
CONTACT US

Upper Cervical Chiropractic Ballantyne, West Ballantyne NC | (704) 919-0057