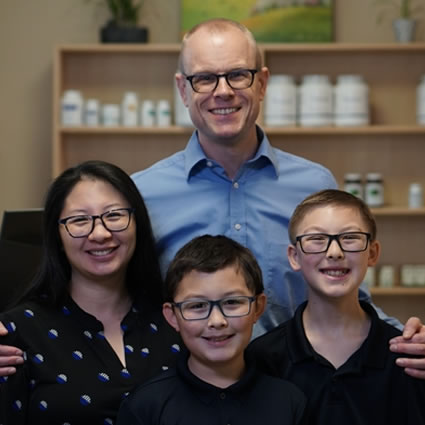 Meet Dr. David Ritchie
Dr. David Ritchie was born and raised in Pittsburgh, PA. He moved to California shortly after graduating from Indiana University of Pennsylvania with a BS degree in Computer Science. Dr. David suffered with many life-long health challenges including severe migraine headaches, debilitating seasonal allergies, and back and neck pain.
Taking the advice of a friend, he found a chiropractor who helped him restore his health and he found complete relief from his symptoms. Dr. David found an incredible passion for chiropractic and the body's ability to heal itself. He decided to go back to school and graduated from Life Chiropractic College West, cum laude, in 2006.
Dr. David opened a practice in California and began helping people of all ages find health through natural means. Dr. David was introduced to functional medicine after his first son, James, was born with health issues that neither medicine nor chiropractic were able to help. A colleague was able to help his son in a matter of days using the same techniques Dr. David uses currently in practice. He became obsessed with nutrition and functional medicine and quickly introduced it into his practice.
"I have seen some absolutely incredible things. When you give the body the opportunity, it can heal. I never underestimate the body's ability to heal itself."
Dr. David, his wife Jane and two children, James and Owen decided to relocate out of California. They found a home in Charlotte.
Dr. David spends a lot of time learning the latest and greatest in chiropractic, nutrition and functional medicine. He loves spending time with his wife and kids outdoors in nature or traveling to the mountains or coast. He is always looking for a new place to hike. He is a guitarist and claims to be able to carry a tune. Dr. David also enjoys working out, yoga and he is currently a blue belt in Brazilian Jiu Jitsu.
Honest and Effective Care
When you first arrive at Ritchie Chiropractic & Wellness, we do everything we can to help you feel comfortable and welcomed. During your visit with Dr. Ritchie, you'll be met with a personable, candid, and entirely honest approach. Rather than try to immediately apply a standard adjustment or sell you an expensive series of visits, the doctor will genuinely try to understand your underlying condition and symptoms, establish realistic expectations and a specific care plan for your needs, and help you feel better as quickly as possible.
Dr. Ritchie brings 15 years of expertise and the experiences from having helped thousands of people in his career to every appointment. He relies on this deep pool of knowledge to guide you to a better state of health.
EXPLORE OUR SERVICES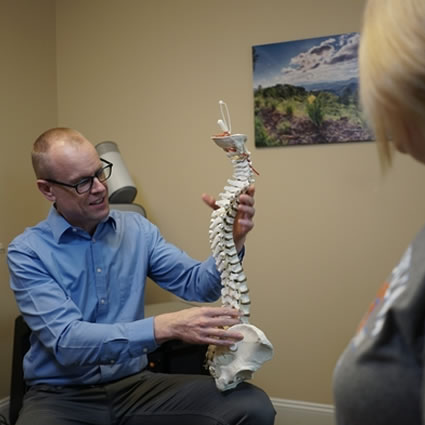 Evolving Chiropractic Perspectives
Dr. Ritchie first entered the world of chiropractic with a studied understanding of how adjustments can lead to improvement. Over the years, clinical practice has far expanded his understanding of chiropractic. He has witnessed the incredible, unexpected improvements that people are able to experience when their body is aligned and their nervous system is working properly. The power of chiropractic adjustment is limitless, and it is often astounding what patients are able to achieve under chiropractic care.
Learn More About Dr. David and Ritchie Chiropractic & Wellness
Dr. Ritchie attended Life Chiropractic College West. He also holds an advanced certification with the International Upper Cervical Chiropractic Association (IUCCA).
Dr. Ritchie has studied Atlas Orthogonal upper cervical chiropractic technique with Dr. Sweat in Atlanta, GA and is pursuing his advanced CCAO certification (previously BCAO).
He's a family man who has dedicated his life to helping you achieve a higher quality of life and a better state of health.
Contact us at (704) 919-0057 to set up your consultation today!

Dr. David Ritchie | (704) 919-0057