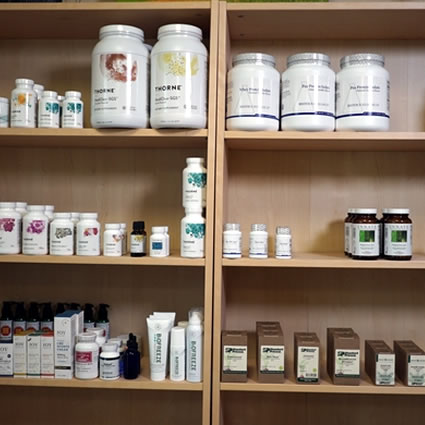 Functional Medicine
Dr. Ritchie first brought functional medicine into his practice when he realized that many of his patients were prohibited from receiving the full benefits of chiropractic care due to their underlying health. Patients receiving chiropractic care that would normally restore them back to full health quickly would be held back because their health was so poor that healing was nearly impossible, or so slow as to be unbearable.
Because the heart of Dr. Ritchie's practice is helping people get back to health and get out of pain as quickly as possible, he knew that it was imperative to incorporate nutrition into his care plans.
Dr. Ritchie uses functional medicine to help support chiropractic adjustments and help people dealing with digestive disorders and hormonal imbalances such as thyroid problems, adrenal fatigue problems, and premenopausal symptoms. He often uses functional medicine to help people overcome or alleviate the symptoms of any combination of sleep issues, anxiety, and depression.
What to Expect
If you request a functional medicine visit with Dr. Ritchie, the first step is a half hour consultation. Our functional medicine services are based completely online, so these appointments are always virtual and convenient. During your initial consultation, Dr. Ritchie will have a conversation with you about your approach to nutrition and ask very specific questions to get to the root of your health problems and determine if he will be able to help you.
Dr. Ritchie may recommend supplements or diets for your specific needs. He has no set program for everyone he treats, but rather customizes every aspect of each individual plan to each individual person. Dr. Ritchie has spent ten years working tirelessly to find the very best supplemental products that exist, so that he can exclusively recommend the ones that work and have the highest quality standards on the market. Dr. Ritchie aims to help you improve your health with a customized diet plan, and only recommends supplements that he deems necessary to reaching your goals.
Learn More About Functional Medicine
We take functional medicine very seriously and offer it as its own service line separate to chiropractic care. While Dr. Ritchie may give nutritional advice to chiropractic patients, specific functional medicine plans are recommended as an adjunct service for patients who could benefit from focused nutritional care.
To learn more about our functional medicine program, set up your virtual consultation with Dr. Ritchie today! Contact us at (704) 919-0057 to set up your appointment.
SCHEDULE NOW

Functional Medicine Ballantyne, West Ballantyne NC | (704) 919-0057