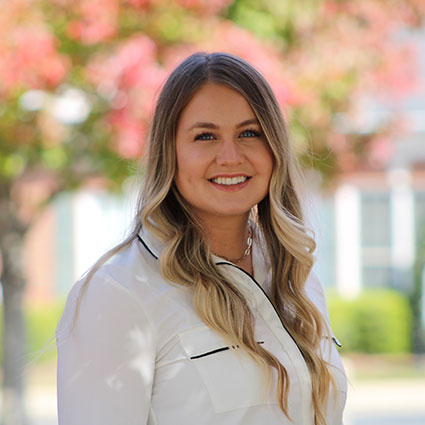 Meet Dr. Hannah Arisman
As a lifelong supporter of chiropractic, Dr. Hannah has been getting adjusted since she was a baby. Having been active with sports throughout her adolescence, she has experienced and appreciated the benefits of receiving natural care.
Deciding on Chiropractic
In 2015, she earned her Bachelor of Science in Exercise Science from Grove City College in Pennsylvania. With her passion being in the fitness and wellness industry, Dr. Hannah's interest in chiropractic medicine started when attending a job fair during her senior year. After graduation she was a personal trainer and also got her license in massage therapy.
While working in these fields a few years, her desire and calling to chiropractic medicine continued to grow. After researching schools, she decided to attend Palmer College of Chiropractic in Florida, and earned her Doctor of Chiropractic in 2022. Fun fact, Dr. Hannah attended chiropractic school alongside her younger brother and they graduated together!
Planting Roots in North Carolina
Born and raised in Baltimore, Dr. Hannah liked Charm City, but knew she wanted to go somewhere warmer. After attending chiropractic college in Florida, she realized she missed the seasons and wanted somewhere in between. Growing up, her family always vacationed in the Outer Banks and she always enjoyed spending time in North Carolina. Ultimately, she decided on Charlotte and is delighted to be part of the Ritchie Chiropractic family.
Connecting With Patients
If you haven't felt listened to or supported by other doctors, that's not the case with Dr. Hannah. She's a great listener, connects emotionally with people, and makes them feel truly heard and supported.
I want every patient to know they are welcome in this space, and I want to help them get better and stay better.
Outside the Practice
When she's not working, Dr. Hannah likes CrossFit, reading, going to the beach, and spending time with the people she's close to. She also enjoys traveling to seeing friends in different states. Dr. Hannah has always dreamed of vacationing to Hawaii and visiting her ancestral homelands of Scotland and Ireland one day.
Contact us today to schedule an appointment with Dr. Hannah!


Dr. Hannah Arisman | (704) 919-0057